Blender 3D – open source 3D program
July 20, 2008 Category: Software Programs
Blender 3D is a free and open source 3D application. It is incredibly powerful.
However, for industrial design, we do not need to use all of its tools and functions.
Its modelling is great at creating many different kinds of shape. However, Blender 3D (in the current version as of this writing) is not full capable of producing high-precision models required for engineering transfer, tooling and manufacturing-downstream processes. So for Industrial Design 3D modelling, a dedicated CAID modeller such as Rhino3D is still better.
Nevertheless, Blender 3D has a good rendering capability. It has a good internal Raytracer as well as the ability to integrate with free high quality Global Illumination Renderers such as Yafaray and Luxrender.
In addition to that, it sports powerful animation ability. For industrial design, we most probably only need to use a fraction of Blender's animation power. This include tools such as key framing and path animations.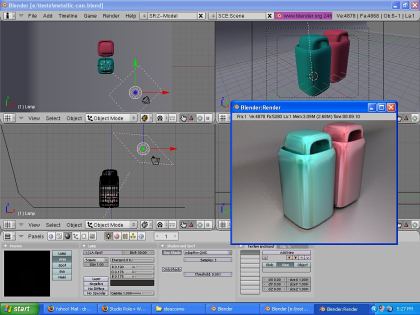 Blender 3D comes in versions for Mac, Windows, Unix and Linux. You can get Blender 3d here.
Tutorials for Blender are many and quite easy to find. For a good introductory video on Blender's Interface, click here.
Posted by: admin