Rhino Grasshopper Workshop 2 builds upon the foundation covered in our Introductory Course. It covers more intricate and exciting ways of tapping the potential of this amazingly powerful digital gem. This workshop is geared towards Rhino Users who wants to further explore the possibilities of using Grasshopper for Generative and Creative Design.
This workshop may be useful to persons from Creative Industries such as Product, Industrial, Jewelry, Furniture Design & etc.

Synopsis:
This course covers more complex principles and techniques. It will also covers plugins that will extend and enhance the already-powerful tool-sets within Rhino and Grasshopper.
Additionally, it will also touch upon more advanced method of generative modelling within Grasshopper such as Evolutionary Solving. In conventional and traditional CAD modelling, the User has the design in mind and works towards creating the form. In Evolutionary Algorithm and Solving, instead of the User doing the modelling work, the software will attempt to arrive towards more optimised solutions for him or her.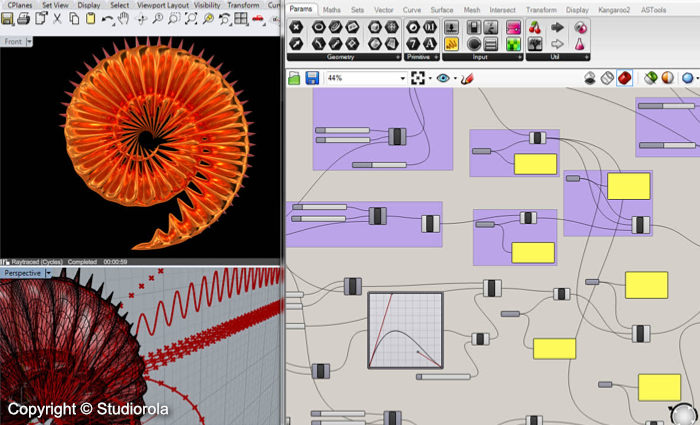 Learning Outcome:
Participant will be introduced to certain add-ons and components useful for generating certain effects and outcomes.
Participant will be introduced to logic and decision-making aspects of grasshopper visual programming
Participant will be introduced to methods of stylistic form generation such as attractors, fields and paneling.
Participant will be introduced to the basics of evolutionary solving.
Pre-requisite:
A working proficiency in Rhino 3D is required.
Additionally, Participants should ideally have taken our Grasshopper Introduction Course. However, this is not a must.
Workshop Outline:
Parameter Inputs (Part 2)
Sets (Part 2)
Curves & Surfaces (Part 2)
Maths & Logic Section (Part 2)
Transformations
Attractors & Fields Techniques
Mesh (Part 2)
Paneling Tools
Galapagos – Evolutionary Solver
Jewelry Creation
Useful Definitions
Enquire and request for quotation
This algorithmic design workshop is conducted by an Authorised Rhinoceros 3D Instructor. For Workshop Enquiries and Quotation, kindly call us at +65 97101546 (Singapore).