For a free 3D CAD tool, PTC Cocreate Modeling Personal Edition is a powerful program. It is an explicit 3D CAD software. The modeled features of a part can be modified but they are history-free.
Its modeling function is surprisingly good for something that is free. It even has such advanced functions as draft-angling and shelling. This program also has an assembly component. However unlike the paid version, an assembly has a maximum limit of 60 parts. Cocreate PE also allows automatic creation of associative 2D drawings of the 3D parts.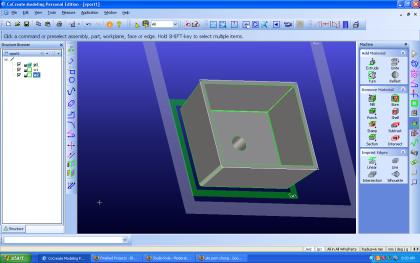 Cocreate Personal Edition can even take in IGES and STEP files. The program, however, does not allow export to IGES or STEP. It does however allow export as STL files.
To get this program, you will need to sign up on their website.
Click here to sign up and download this powerful 3D CAD.
The comparision chart is here.