This is Part 2 of this Rhino 3D Product modeling tutorial.  This is a tutorial of relevance to product and industrial design type of 3D modelling.
Click here to go back to Part 1
In Part 1, we have already created the resultant curve from the Top and Front profile curves using Curve from 2 Views. The curve is as shown below. For this tutorial, we will use the Top Profile curve as the top edge of one half of the spectacle.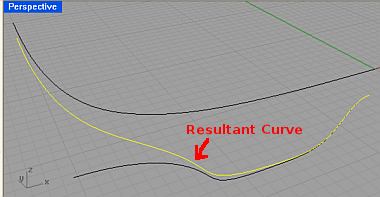 Now, we need to create the cross-sectional curves. In the Right View, create the first Cross-sectional curve using Control Point Curve. Make sure that the 2 points of the curve are touching the ends of the 2 generation curves. If needed, use Osnap End to ensure that. The curve should be similar to what is being shown below.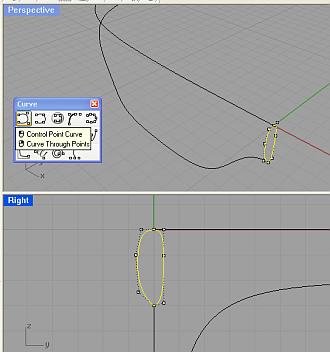 Next, create the other cross-section curve. In the Front View, create the Curve (as shown below) using Control Point Curve.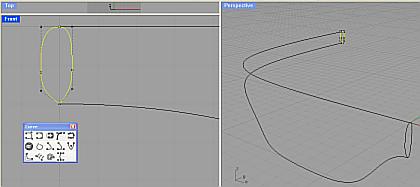 Now, we can create the surface for this half of the model. Depending on the situation, there are several surface tools that can be used. These tools are as of the following:
1. Surface from Network of Curve

2. Sweep 1 Rail

3. Sweep 2 Rail
For our case here, the most appropriate tool is Sweep 2 Rail. Surface from Network of Curve surface tool may not work because of the 2 closed looped curves. Sweep 1 Rail is not suitable because, there are obviously 2 'railable' curves. The Alias StudioTools equivalent of Sweep 2 Rail and Sweep 1 Rail is Rail Surface.
Using Sweep 2 Rail, create the surface using the Rail Curves and Cross-sections as indicated in the screenshot directly below.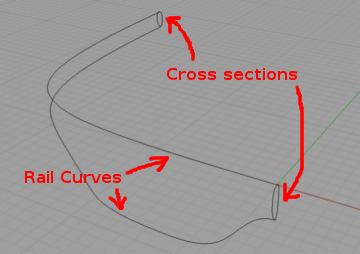 The resultant surface should look like what is being shown below.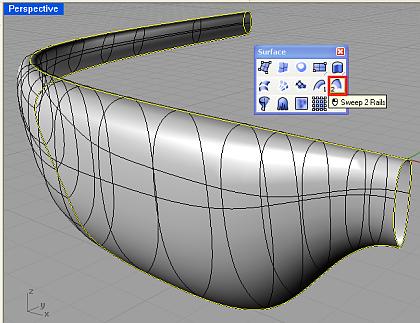 This is the end of Part 2 of this Rhino 3D modeling tutorial.