According to the Straits Time July 11, 2009 D1, the Singapore Government has set aside more than $1 billion for the next five years to turn Singapore into an international media powerhouse.
I am just wondering, how can Open Source applications such as Blender help in raising the interest in digital media stuffs. For one, commercial high end 3D animation packages cost thousands of dollars. Not many people who want to 'test the water' will be willing to fork out that amount of money. It certainly does not make good economic sense to buy some expensive and complex 3D application only to discover that 3D and digital media is not one's cup of tea.
Open source application programs such as Blender 3D is freely available for download and use. This certainly makes it easier for some one to test the water. However, like all feature-rich 3D application, Blender is without exception not easy to learn. Learning a 3D application is not like learning something such as a Wordprocessor. It is much more intensive and can take months and even years to become really proficient.
Now, most of the feature found on high-end commercial 3D applications are available on Blender. The basic principles of modelling are the same regardless of software program. The only main difference that I see is that Blender's interface is slightly more unconventional, but not in anyway less intuitive or inefficient.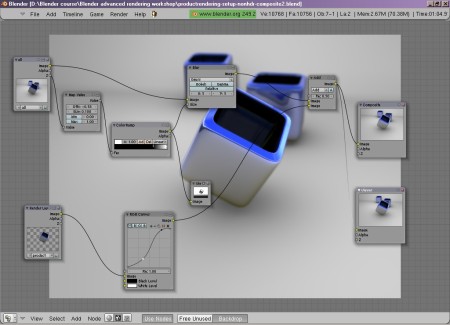 Having taught Blender in schools, colleges and to individuals, I find that once the initial challenge with the interface is overcomed, Blender becomes enjoyable to use.
So, is Blender a good platform for learning 3D? In my opinion, unless you have several thousand bucks to splash on a similarly featured software, it is very suitable for such a role.