Modern 2 Modern is a place where modern furniture and interior accessories can be purchased online. It features a nice range of furniture, lighting and accessories catered for residential home as well as office needs.
A wide range of furniture can be found there. This includes indoor type stuffs such as sofas, bedroom sets, coffee tables and office chair. Additionally, it also has a range of outdoor patio furniture. There, you can purchase designer patio chairs such as the synthetically weaved Sydney chair and the Cabo Chair, both of which are from Zuo Modern. The Cabo Chair is as shown below. Most of the furnitures within Modern 2 Modern are designed by Italian, European or American designers.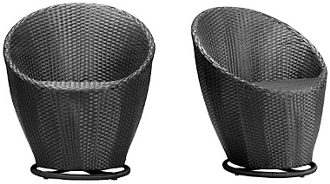 Personally, I thought the website can do with better graphic and aesthetic treatment. As of this writing, the layout is a bit too clinical and does not exudes a much-needed designerish flair.
On the other hand, the prices of the products on sale are very reasonable. Additionally, you can also seek consultation from within the website with regards to the appropriate matching of product choices to interiors.