In terms of availability of software programs for industrial and product design, the PC is spoilt for choices. All major product design packages are available for the PC. Pro-engineer, Solidworks, Autodesk StudioTools and Rhinoceros 3D all run natively on the PC.
For Mac users, the range of Computer Aided Industrial Design and Product Design tools are much more limited. One tool that runs natively on the Mac is Amapi Pro.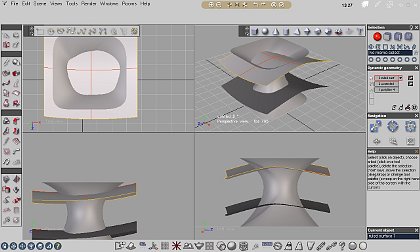 As I do not have a Mac, I am testing Amapi Pro 7.5 on my desktop PC. However, the results should be the same.
Amapi has a rather pretty interface that share some similarity with Carrara. Most of the standard tools that one will expect of a NURBS modeller are available on the Amapi Pro.
Tools for creating NURBS curves and surfaces are available. The equivalent of Rhino and Studiotools trims seems to be something call the 'manifold'. Like Rhino and Studiotools, Project COS is also included in Amapi Pro.
Surface matching capability is also available. It's equivalent for Rhino's Match Surface is the Match Tangent tool. The two surfaces below are matched using the Match Tangent.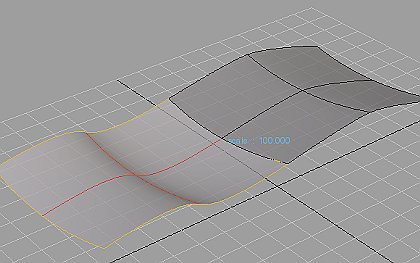 Besides surfacing tools, Amapi also has boolean commands. To ease the modelling process, there are productivity tools such as symmetry modelling and measurement aids.
The application comes with video tutorials which help in reducing the learning curve. However, personally, I am not too comfortable with its interface. Perhaps, I am simply being too used to Rhino and Studiotools-type interfaces.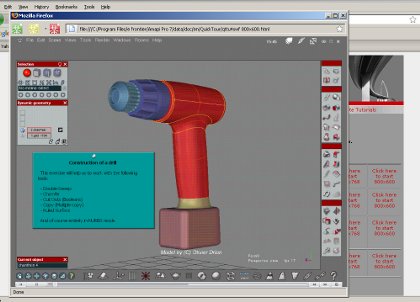 The fact that Amapi Pro allows import and export of IGES and STEP formats, set its apart as a dedicated product design tools for the Mac environment.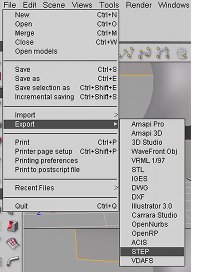 There is also STL file support which enable its models to be used for Rapid prototyping or 3D printing too.
As of this writing, Amapi Pro is cheaper than Rhino4. Features-wise, both 3D programs should be roughly comparable, with Rhino probably having slightly more tools.
Please note that Amapi is not the same as the Amapi Pro version. For dedicated product and industrial design, Amapi Pro version must be used.
In conclusion, I think Amapi Pro can be a good software program for Computer Aided Industrial Design. All the tools to get the job done is in the program. My only problem is its rather unconventional interface. But, I guess, once that particular hurdle is overcomed, Amapi Pro is no less powerful that other dedicated CAID programs.
Given the fact that there are so few native CAID tools on the Mac, Amapi Pro should be one of the best bet. 🙂