While having lunch at a neighbourhood shopping centre, I saw something that is pleasantly surprising.
Big Buck Bunny is being played at the entrance to Challenger the computer store.  The 3D movie drew a crowd of mainly mothers and their young kids. For those who are not aware, Big Buck Bunny is the second opensource movie that was created using Blender. The audience may have enjoyed themselves with a few laughs, but they probably did not know that the 3D movie was made using a free/open source 3D application.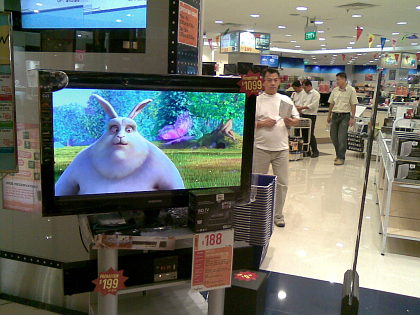 Nevertheless, I think it is a favourable sign. Hopefully, it is a sign of the general public's increasing familiarity with Blender as its 3D movies move inroad into the heartland areas.
By the way, this sighting is in Sembawang Shopping Centre, Singapore.