How many bottle openers do you need?
Found this website that features a cool Bottle Opener that opens many different kinds of bottle caps. Soda cans, beer cans, plastic and glass bottles are certainly no obstacles for this cool and very handy design.
Having studied design issues pertaining to the elderly, bottle and can opening are certainly frustrating activities for many an elderly person. This bottle opener will certainly be of convenient and good use to them.
I can also envisage this bottle opener being handy in parties where all kinds of drinks from bottles are being served.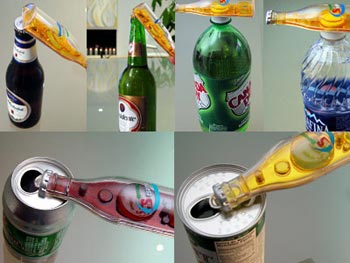 >>> Click here to see this cool bottle opener