Daz Studio is a free rendering and animation software for posing 3D humans. It is similar in concept to Poser. The closest open-source equivalent will be the excellent Makehuman.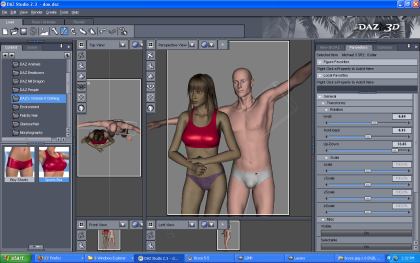 This software comes pre-included with the 3Delight renderer. Additionally, its capability can be further enhanced by purchasing or downloading add-ons such as new characters and props. It can also import and export Wavefront Obj 3D files. If you are into Industrial Design, I can imagine DAZ Studio being used for ergonomic study, illustrating product usage and user scenarios.
The free default download already come preloaded with a basic human figure. After you have signed up, go to 3D Software >> DAZ Studio to download it.
Note: For a better experience, your computer should have a reasonably decent graphics card that supports OpenGL. Also, the default interface hides quite a bit of its tools. To access more tools, go to View >>> Tabs.
Happy downloading 🙂