Yesterday, I received a review copy of a recently-published Blender 3D book in my mailbox.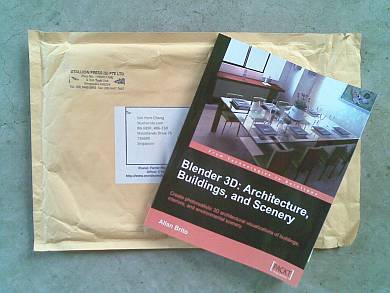 The book, is called Blender 3D: Architecture, Buildings, and Scenery . It is a 300+ page book from Packt Publishing. This is a book about creating architectural buildings, interiors and environmental scenery using Blender 3D, the powerful open-source 3D application. This book is written by Allan Brito who is a Brazilian architect. Allan also runs an architecture and blender related website at http://www.blender3darchitect.com/
As my background is in Product and Industrial Design, I use (and teach) Blender primarily as a Product Visualisation tool. The area of Architecture and Interior rendering is not really my main specialisation, although I have done some projects related to them. Thus, I am looking forward to reading this book and gaining insights into using Blender for Architectural, Interior and Scenery visualisation.
I will write and post the review as soon as I have read the book.