Singapore is a country that is known more for its efficiency that its creativity. However, beneath the bland and often boring facade lies hidden dragons and crouching tigers.
'Small Thoughts, Big Ideas' is a showcase of personal and creative works by 15 Singapore-based Industrial Designers. The works are currently on display at the Arts House.
Below are some of the showcased works…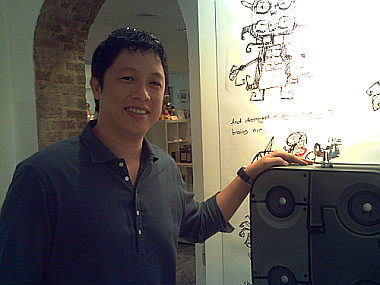 The Acoustic Robot by Lun Cheak (above), who is a lead designer at Dell. He is also an award-winning Illustrator.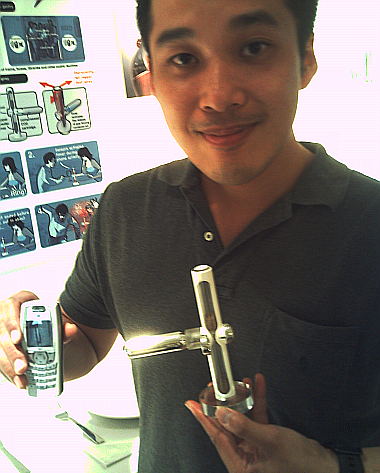 The Ettiquette 2.0 Peppershaker by Andrew Loh (above), who has working experiences in places such as Sony Ericsson, Shimano, Hewlett Packard and Creative Technology.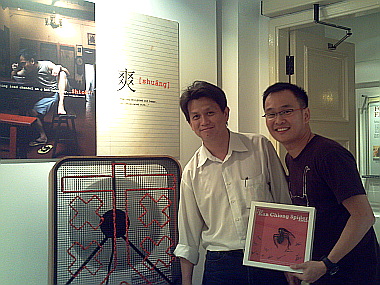 The Shuang Fan by Tai Woon ( above, right), who has working experience with Hewlett Parkard and Dell. Incidently, Tai Woon and I (above, left) were schoolmates from Temasek Design School.
Each work has a compelling story behind it; which is unfortunately not captured by the mere pictures posted above. The works are imbued with characters that exude qualities that are highly relevant to the context of Singaporean culture and/or aspirations of the participating Designers.
There are more very interesting and inspiring works at the exhibition. If you are in Singapore, do yourself a favour by visiting the exhibition. The works will be on display from 20th to 29th November 2009. It will be opening from 11am to 8 pm daily. The Arts House is situated at 1 Old Parliament Lane, Singapore 179429.
Be inspired.