Why re-invent the wheel? There is no need to re-create 3D models that are already done by others.
These 3D models and graphics resources are available as instant download purchases. There are over 150 000 files in the repository. Here you will find models of all kinds of formats,  including 3DS, OBJ, LWO, 3DM and MAX. There are models for all kinds of genres including human figure, vehicles, animals, products and architectural buildings.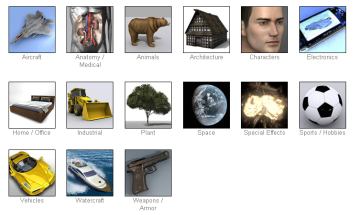 Use the search box below for more info and purchasing details. Products comes in all price ranges.
Some of these files and 3D models are free.